Welcome to Project DIVA Wiki,
The Wiki based on the popular Japanese rhythm gaming series!
200 articles and counting since February 2015
Please be aware that this Wiki is still under major construction. If you report any bugs, please contact an Administrator! Want to help out? You can simply add some info to some pages or you can even make a new one. Just remember to read our rules and guidelines.
DISCLAIMER: This Wiki is no way affilated with Sega, Crypton Future Media or any of its affiliates.

Hatsune Miku: Project DIVA is a Japanese music/rhythm game series developed by Sega and Crypton Future Media. Since 2009, it was widely acclaimed as one of Sega's most successful game franchises in Japan, leading sequels, spin-offs and even a mega popular Japanese arcade title.
This video game series stars Vocaloid Hatsune Miku who is known to be a virtual idol released on August 31, 2007 and has led to become one of the biggest Vocaloids ever since.
Our goal on this wiki is to provide as much information as possible about Project DIVA and their spin-offs Project Mirai and even Miku Flick. We hope to create an accessible, attractive and easy-to-read wiki for every Vocaloid fan or those interested in music/rhythm games, no matter their taste in genre.

Know a little something about Hatsune Miku: Project DIVA? Spread the knowledge, and write an article!
Adding content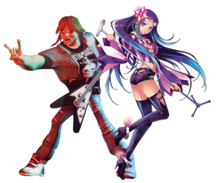 Community content is available under
CC-BY-SA
unless otherwise noted.